The prestigious Russian women's volleyball club, Dinamo-Ak Bars recently conducted an enlightening meeting with journalists, allowing an opportunity for insights into the aspirations and goals of the team for the forthcoming season. The gathering was particularly highlighted by the profound responses and aspirations shared by the head coach, Zoran Terzic.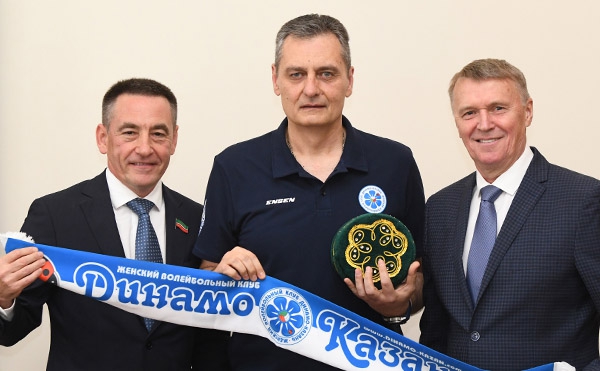 Terzic, with a rich history of working in Russia since the 2012/13 season, expressed his conviction that the Russian league, during his initial engagement, was the best in the world. However, he lamented the perceptible decline in the level over the years. "Now in Russia, there are many very talented young players, perhaps more than in any other country in the world. But the league is not as strong as it used to be," he stated. Terzic emphasized the present disparity in the league with only 4-5 strong teams while the others significantly lag behind.
Discussing his familiarity with players Pietrini and Martinez, he voiced his long-standing desire for Elena Pietrini to play in Kazan, praising her as one of the world's most promising talents. He was optimistic that Pietrini could significantly exceed her current performance levels. He lauded Martinez as one of the world's premier attackers, projecting her as a consistent source of a minimum of 20 points in every match.
When discussing his envisioned style of play for Dinamo-Ak Bars, Terzic emphasized his initial focus on ensuring players execute the basics and are well-aware of their positions and responsibilities. His aspiration is for the team to demonstrate continuous improvement with every game, with end-of-season results offering the ultimate assessment of the team's progress.
In evaluating the work ethic of young players in training, Terzic presented a balanced view acknowledging the fluctuations in their performance but expressed overall satisfaction and hope for rapid progression.
Drawing comparisons between his experiences in different cities like Omsk, Moscow, and international engagements in Italy, Turkey, and Switzerland, Terzic praised the organization in Kazan as unparalleled. He complimented the city for its beauty and advanced sports facilities and cited its advantage over Moscow, in terms of convenience for athletes, due to less travel time before home matches.