On the third day of the South American Championship, Argentina beat Peru, while Brazil defeated Chile and kept a perfect record in the competition.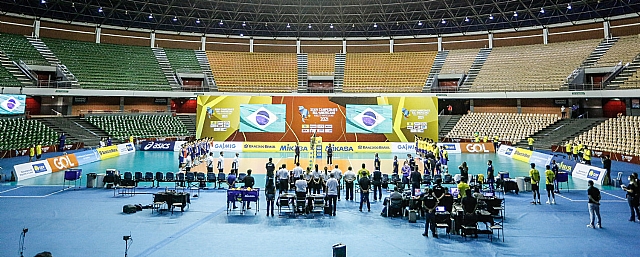 The first match of the day offered a match between Argentina and Peru. Argentina beat Peru 3-0 (25-21, 25-21, 25-12). Ezequiel Palacios of Argentina was the top scorer of the match at 14.
Brazilian team led by coach Renan Dal Zotto remains undefeated after three matches played and will end its participation in the competition on Sunday (05.09) against Argentina. Despite the great effort of the Chileans, Brazil secured a clear 3-0 victory (25-22, 25-18, 25-19). Brazilian Alan Souza was the top scorer of the match with 14 points. For Chile, Vicente Parraguirre scored 10 points.
The competition is played in a single round-robin format (each team plays with every other team once).
FIRST ROUND
01.09 Argentina – Colombia 3-0 (25-20, 25-19, 25-17)
01.09 Brazil – Peru 3-0 (25-12, 25-19, 25-18)
SECOND ROUND
02.09 Chile – Peru 3-0 (25-23, 25-22, 25-13)
02.09 Brazil – Colombia 3-0 (25-20, 25-22, 25-21)
THIRD ROUND
03.09 Peru – Argentina 0-3 (21-25, 21-25, 12-25)
03.09 Brazil – Chile 3-0 (25-22, 25-18, 25-19)
FOURTH ROUND
04/09 Colombia – Peru
04/09 Argentina – Chile
FIFTH ROUND
05.09 Brazil – Argentina
05.09 Colombia – Chile