China remained in contention for the Final Four of the 2021 FIVB Women's Volleyball Nations League.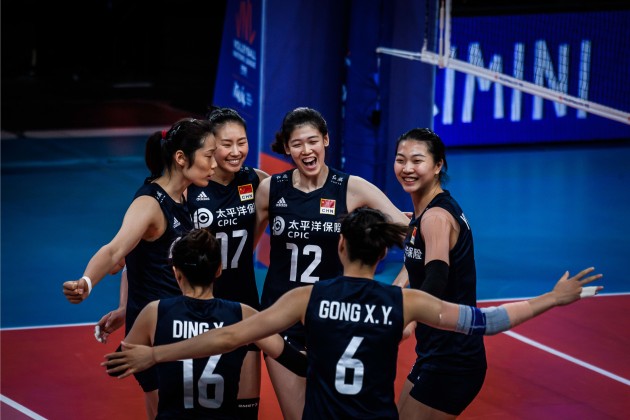 Earning the fifth consecutive win in the 2021 Women's VNL, the Olympic champion China remained in contention for the Final Four. Actually, the team commanded by Lang Ping, who entered the last two weeks of the competition with the strongest squad, today prevailed over one of the direct competitors for a place in the semifinal – Russia. China did not even give away a set to the rival, partially 25-18, 25-23, and 25-16. Li Yingying stood out on the winning side with 19 points, while Yan Ni made 4 blocks and Wang Mengjie 78.6 % digs (12/14).
Led by Ebrar Karakurt (21 points), Turkey achieved a highly valuable victory to supports its aspirations to get a hold of the Final Four. The team coached by Giovanni Guidetti swept The Netherlands in three sets. Eda Erdem Dündar had 5 blocks, while Meliha İsmailoğlu made 83.3 % digs (10/12).
The USA is still undefeated (13-0), while Italy broke its own losing streak that consisted of four matches.
2021 FIVB Women's Volleyball Nations League – Day 13 (Week 5):
Germany – Serbia 3-0 (25-23, 25-16, 25-21)
Japan – Dominican Republic 3-2 (18-25, 24-26, 25-22, 25-15, 15-11)
Thailand – Belgium 1-3 (23-25, 24-26, 25-23, 15-25)
South Korea – Brazil 0-3 (18-25, 23-25, 18-25)
China – Russia 3-0 (25-18, 25-23, 25-16)
Poland – USA 0-3 (27-29, 27-29, 14-25)
Canada – Italy 0-3 (18-25, 20-25, 20-25)
Turkey – Netherlands 3-0 (27-25, 25-20, 25-20)