Gaspari's Vero Volley Monza returned to play in front of their home crowd, his team faced Il Bisonte Firenze at the Arena di Monza, for the tenth round of the Serie A1 2021-2022 season and prevailed in a match without mistakes for the rosablu girls.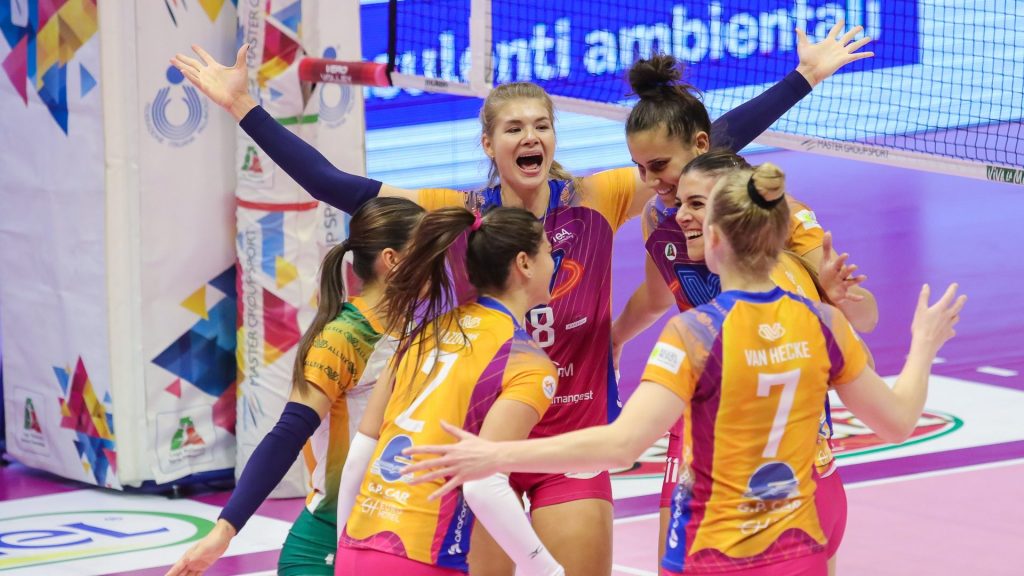 The victories obtained against Scandicci (3-1), Rome (3-0), Casalmaggiore (3-0), and Cuneo (3-2), allowed Monza to climb to third place in the standings of the local league and keep their confidence high upon their upcoming challenges this month the first one successful was today and next Wednesday they will be playing their very first match of Champions League at home against Mulhouse for the second match of Pool B.
Today they were facing a very tough opponent Il Bisonte that on their last match accomplished something nobody could, they beat the Italian champions Conegliano and ended their world record 76 consecutive victories. Bellano's girls with super team performance, delivered the most unexpected upset so far this year and demonstrated that they are on great form and ready to fight for a top spot of the league nevertheless Monza was too strong today.
With a fantastic team display Gaspari's girls played 3 impeccable sets, suffering at the beginning of the match on reception with Stysiak who's playing in the place of Alessia Gennari (still injured) still Monza compensated with a great blocking percentage and a fantastic performance by their setter Alesia Orro. Firenze struggled throughout the match on the attack with many mistakes, Sorokaite was the top scorer of the away team with 13 points and on Monza side Stysiak with 13 points.
Vero Volley Monza vs Il Bisonte Firenze 3-0 (25-18, 25-22, 25-17)
FULL SQUAD– VERO VOLLEY MONZA
Setters: Alessia Orro (4) (MVP OF THE MATCH), Jennifer Boldini
Middle-Blockers: Anna Danesi (8), Katerina Zakchaiou (1), Sonia Candi (6), Gaia Moretto
Spikers: Katarina Lazovic (2), Magdalena Stysiak (13), Alessia Gennari, Lise Van Hecke (8), Anna Davyskiba (11), Alessia Gennari, Elisa Bole
Libero: Beatrice Parrocchiale, Beatrice Negretti
Coach: Marco Gaspari
FULL SQUAD– IL BISONTE FIRENZE
Setters: Carlotta Cambi (1), Francesca Bonciani
Middle-Blockers: Amandha Sylves (4), Yvon Belien (3), Emma Graziani (1), Astou Diagne
Spikers: Indre Sorokaite (13), Celine Van Gestel (3), Jolien Knollema (4), Ruth Terry Enweonwu (10), Bianca Lapini, Sylvia Nwakalor (1)
Libero: Sara Panetoni, Maddalena Golfieri
Coach: Massimo Bellano
AUTHOR: Lucia M. Lecouna
Sports Data Scout and Journalist
A former student of Communication and Media at the IULM University, sports journalist that focuses on Football, Volleyball and Basketball.
https://www.linkedin.com/in/lucia-l-914710139
Contact mail: lulile(at)gmail.com