The volleyball players of Marina Kaštela won the Croatian Cup of Snježana Ušić, beating their fellow citizen, the Kaštela team, in the final, with 3-0 (25-13, 25-17, 25-18).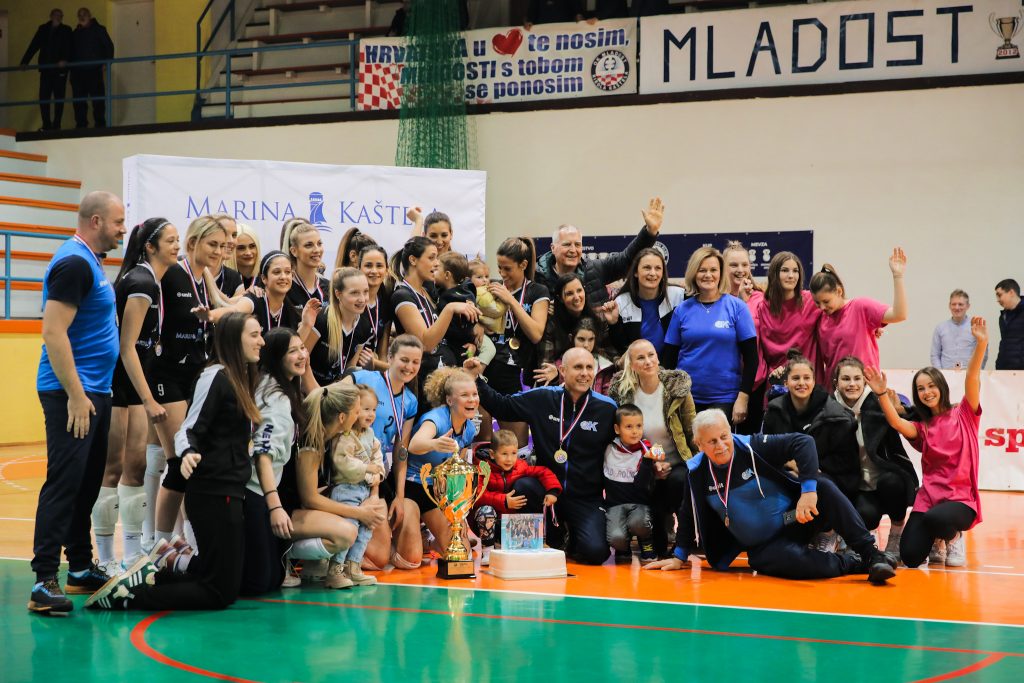 Absolutely deserved victory, they have dominated this competition since the beginning of the volleyball coach Milorad Krunić, who has been working at this club for nine years, and to whom this was a great birthday present. Marina won the trophy, which was handed to captain Elena Vukić by the president of the Croatian Volleyball Federation Ante Baković, with smooth 3-0 victories against Veli Vrh and Rijeka CO, Mladost in the semifinals and in the final against Kaštela.
The match, which lasted 'only' 69 minutes, can be said to have been a one-way street, The total statistics are on the side of Marina Kaštela, 4 aces (0 Kaštela), 7 blocks (1 Kaštela – Nina Strize), 39 points in attack (33 rivals) and 14 unforced errors against 29 Kaštela.
After the match, Marina Kaštela coach Milorad Krunić, with a cake in his hand, a gift from his players for his birthday, said with tears in his eyes:
"I told the girls back in Zagreb when we won Mladost in the semifinals and won this final that it's my birthday on March 9. And that's it, this trophy is my most beautiful gift. "
The best player of the match, Tea Kojundžić, said:
"We knew we were better than Kaštela, we beat them in a similar way a week ago. There was no fear, we prepared seriously and were concentrated. From the beginning, we controlled the result and deservedly celebrated in the end. "
Kaštela coach Zoran Grgantov was not disappointed after the finals:
"I am not disappointed but proud of my girls. We made a huge success when we qualified for the finals, no one saw us that far. It was obvious at the beginning that we were a young and inexperienced team. We grew from match to match, but there would be constant setbacks in the game, which is actually normal, it's the price of growing up. "