A combative Vero Volley Monza won Game 1 of the 2021/22 Italian Women's Volleyball Championship finals against Prosecco Doc Imoco Volley Conegliano.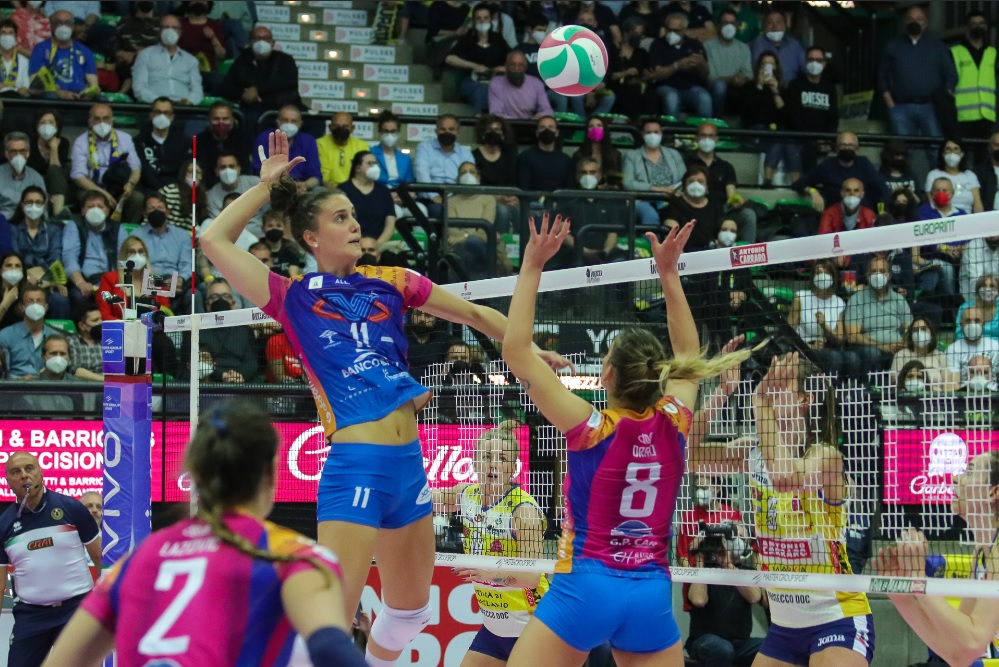 The final series for the 2021/22 Serie A playoffs began with a bang. In a full PalaVerde (more than 5,000 spectators), No.1 Imoco succumbed in the tie-break to No.3 Monza. The reigning champions wasted advantage of 4 points (10-6) in the fifth set and practically handed out the victory to the ladies coached by Marco Gaspari. Monza were brave though, despite not being able to count on a starting outside hitter Alessia Gennari (struggling with a knee problem but should return for Game 2).
Belgian Lise Van Hecke (23 points) stood out the most on the winning side. The MVP of the Tokyo Games Jordan Larson was flawless in reception. The American had 81% in this segment (21 digs, 1 error, 71% perfect). For Imoco, Paola Egonu tallied 29 points. Raphaela Folie made 92% attack (11/12), while Monica De Gennaro made 82% reception (11 digs, 73% perfect).
2021/22 Serie A – playoff finals, Game 1:
Prosecco Doc Imoco Volley Conegliano – Vero Volley Monza 2-3 (23-25, ​​25-15, 25-19, 16-25, 13-15)