During Saturday's SuperLega matches, Cisterna secured a valuable three points against recent Italian Cup champions, Gas Sales Bluenergy Piacenza, while Lube emerged victorious against Milano, who were missing five players due to Covid-19 and had an exhausted Ishikawa returning from recovery.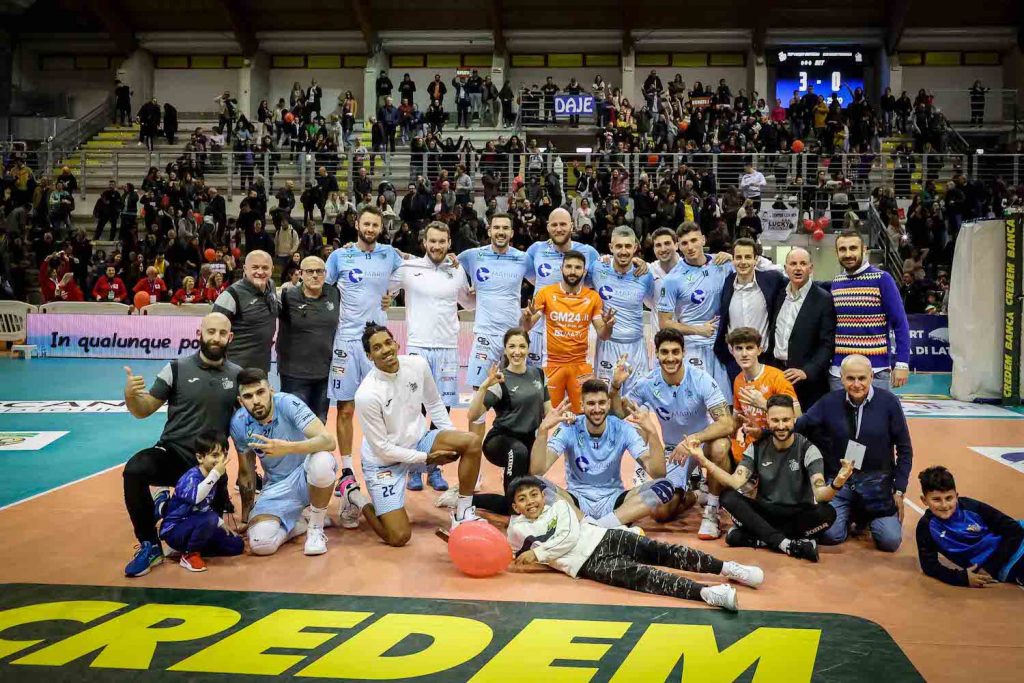 Piacenza, the winner of the Italian Cup, arrived in Latina full of excitement, but also mentally drained from a few days ago and without Simon as an important piece of the puzzle in their team.
Nevertheless, Top Volley Cisterna seized the opportunity and capitalized on the opposing team's momentum to secure three points without mercy. Top Volley Cisterna defeated Gas Sales Bluenergy Piacenza 3-0 (25-18, 25-18, 25-20) .This victory keeps them in the running for a spot in the Scudetto playoffs.
In the second match, red and white team secured their spot as the top seed in the Play Off Quarterfinals with their fourth consecutive victory in the championship. Cucine Lube Civitanova dominated Allianz Milano at the Eurosole Forum in straight sets 25-22, 25-15, and 25-12. Allianz Milano was struggling with absences related to the Covid-19 cases and they arrived without five players and with exousted Ishikawa who did not play as well.
SuperLega CredemBanca – Round 21
March 4, 2023
Top Volley Cisterna vs Gas Sales Bluenergy Piacenza 3-0 (25-18, 25-18, 25-20)
Top Volley Cisterna: Baranowicz, Bayram 13, Zingel 8, Dirlic 13, Sedlacek 14, Rossi 6, Staforini (L), Martinez, Catania, Zanni, Mattei, Kaliberda, Gutierrez, Coach: Soli
Gas Sales Bluenergy Piacenza: Brizard 5, Santos De Souza 6, Alonso 4, Romanò 15, Leal 8, Caneschi 4, Scanferla (L), De Weijer, Cester, Recine 1, Basic, Gironi, Coach: Botti
Cucine Lube Civitanova vs Allianz Milano 3-0 (25-22, 25-15, 25-12)
Cucine Lube Civitanova: De Cecco 1, Yant Herrera 8, Anzani 5, Zaytsev 15, Nikolov 2, Chinenyeze 5, D'Amico (L), Garcia Fernandez 5, Balaso (L), Bottolo 13, Gottardo, Ambrose, Diamantini, Sottile, Coach: Blengini
Allianz Milano: Pesaresi (L), Piano 3, Vitelli 5, Mergarejo Hernandez 16, Fusaro 3, Loser 6, Colombo (L), Ishikawa, Coach: Piazza
March 5, 2023
Gioiella Prisma Taranto vs Sir Safety Susa Perugia
Pallavolo Padova vs Itas Trentino
Modena Volley vs Vero Volley Monza
Emma Villas Aubay Siena vs WithU Verona
STANDINGS
1. Sir Safety Susa Perugia 59
2. Valsa Group Modena 39
3. Cucine Lube Civitanova 38
4. Itas Trentino 38
5. WithU Verona 31
6. Gas Sales Bluenergy Piacenza 31
7. Vero Volley Monza 28
8. Allianz Milano 27
9. Top Volley Cisterna 26
10. Pallavolo Padova 18
11. Gioiella Prisma Taranto 16
12. Emma Villas Aubay Siena 15