On Thursday, August 19, 2021, Germany will start the competition at the 2021 EuroVolley in Plovdiv, Bulgaria, with a match against Poland.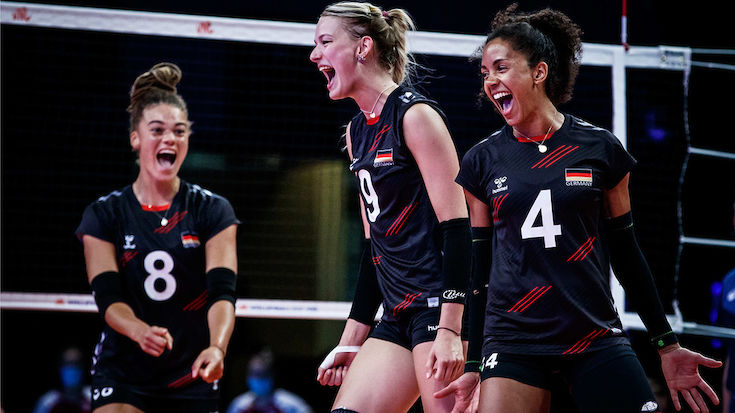 A few days before the start of the competition, head coach of the national team Felix Koslowski selected 14 players for EuroVolley.
Setter: Pia Kästner, Denise Imoudu
Opposite: Louisa Lippmann, Kimberly Drewniok
Outside hitter: Jennifer Janiska, Lina Alsmeier, Lena Stigrot, Hanna Orthmann
Middle blocker: Marie Schölzel, Lea Ambrosius, Camilla Weitzel, Monique Strubbe
Libero: Linda Bock, Anna Pogany
After missing the VNL, Louisa Lippmann returned to the national team and raised team ambitions and optimism for the upcoming competition.
In the last three friendly matches Germany defeated Belgium 3-1 (28-26, 18-25, 25-22, 25-20), 3-0 (25-22, 25- 21, 25-22) and 3-1 (28-26, 23-25, 25-20, 25-22).
Germany is in Pool B to be played in Plovdiv, along with hosts Bulgaria, Czech Republic, Greece, Poland and Spain.
The European Championship will be held from August 18 to September 4 in Serbia, Bulgaria, Croatia and Romania. 24 teams are at the start, just like in the last edition in 2019, where a record number of participants competed.