Today's matches of Round 18 of 2021/22 Italian Women's Volleyball Championship brought mutual encounters of the Top-4 sides in the charts.
Things are changing in Serie A as, unlike the previous 3 years, Prosecco Doc Imoco Volley Conegliano will have to work hard to secure the top spot in the regular season. The Italian club champions have fallen at home to strong Vero Volley Monza, who recorded the 11th win in a row in the league. The Pole Magdalena Stysiak top-scored Monza with 23 points, while Alessia Gennari made 79% reception (24 digs, 2 errors, 50% perfect). Imoco fell to 3rd place in the charts.
However, Monza failed to take the top spot. That's because Savino Del Bene Scandicci swept the 4th-placed Unet E-Work Busto Arsizio, recording the 8th consecutive triumph in Serie A, in another big match of Round 18 and settled at No.1.
It has to be stressed that Imoco have 2 matches less played than Scandicci and one match less played than Monza, being only 3 points behind both of them (40-37).
2021/22 Serie A – regular season, Round 18: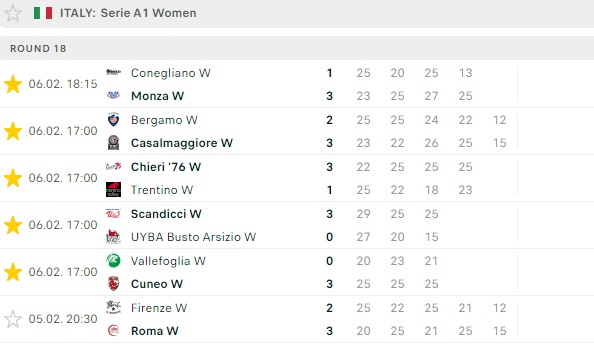 Postponed
Bartoccini Fortinfissi Perugia – Igor Gorgonzola Novara