The Korean Volleyball Federation announces results and the final selection in the tryout (Draft) for the men's season of the V-League 2022/2023.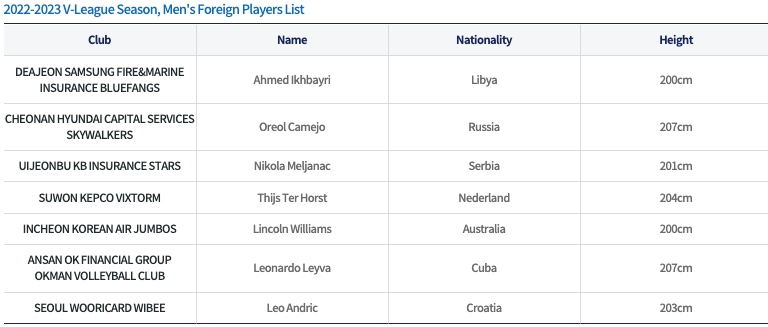 2022-2023 V-League Season, Men's Foreign Players List: 
Ansan OK Financial Group Okman Volleyball Club – Leonardo Leyva (CUB)
Suwon KEPCO Vixtorm – Thijs Ter Horst (NED)
Daejon Samsung Fire&Marine Insurance Bluefangs – Ahmed Ikhbayri (LBY)
Seoul Wooricard Wibee – Leo Andric (CRO)
Uijeonbu KB Insurance Stars – Nikola Meljanac (SRB)
Chenoan Hyundai Capital Services Skywalkers – Oreol Camejo (RUS/CUB)
Incheon Korean Air Jumbos – Lincoln Williams (AUS)
From the previous season only two players renewed their contracts: Lincoln Williams will remain in Incheon Korean Air Jumbos and Leonardo Leyva renewed his contract with Ansan OK Financial Group Okman Volleyball Club. League MVP Noumory Keita will not play in Korea next season. As our sources have revealed, he has already signed a contract with the Italian club in which he will join another volleyball rising star. We are expecting the official announcement of this transfer soon and we are looking forward to seeing Keita in the strongest volleyball league in the world.
Oreol Camejo comes from Turkish powerhouse Ziraat Bankkart where he plays the playoff finals against Halkbank Ankara. Leo Andric spent the previous season in Russia, and is currently a member of the A2 Italian team Banca Alpi Marittime Acqua S.Bernardo Cuneo. Thijs Ter Horst arrives from Italy, from Sir Safety Conad Perugia while Ahmed Ikhbayri finished the previus season as a member of the Slovenian team Merkur Maribor. Nikola Meljanac comes from Serbia, where he played for Crvena Zvezda (Red Star Belgrade) in the past 6 seasons.
From year to year, the Korean League offers quality, attractiveness and challenge, we must also mention very affirmative terms of the contract for the selected players.
The contract period is from August 2022 to March 2023, with the option to continue until April.
For the first year, the contracted salary amount is $ 400,000, and for the second year and more (Contract renew) the salary amount will increase to $ 550,000. (Players of the 2021/2022 season, who re-sign a contract with the same team for the 3rd season: $ 600,000) Players are solely responsible for tax liabilities.
Bonuses for match victories are also applicable, as well as bonuses for champions and runners-up.