Cold days in Croatia and the north are just a cat's cough when it comes to Russian winter. Two members of the Croatian national volleyball team, captain Tsimafei Zhukouski and Leo Andrić, know very well what -50 degrees mean. Although they live relatively close to Moscow, they regularly travel to the Siberian region. They reveal the charms of the Russian winter that we know from stories and movies.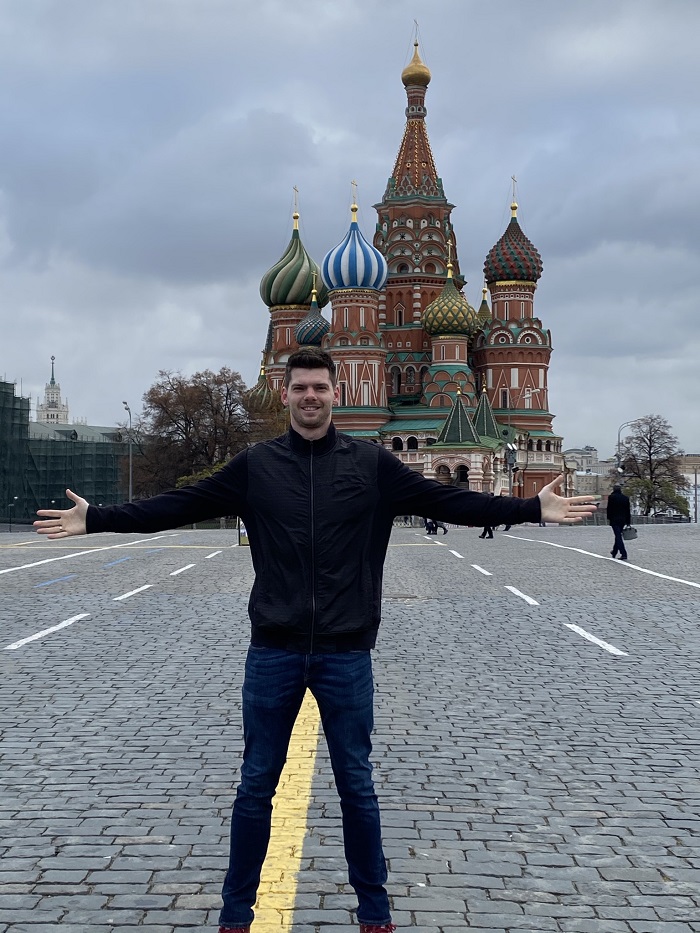 "Winter in Russia is very cold and cruel. I am currently in the small town of Serpukhov, which is 90 kilometers from Moscow. We live and train in that city, but we don't play games. That is why my club is specific. We fly to Siberia for more than three and a half hours to the city of Novi Urengoy for home games! "- reveals the 32-year-old Tsimafei and adds; "Throughout the season, we fly by plane to every game, which is a big drawback for the Russian championship for players who come from Europe. These are long journeys and flights and time differences. We spend a minimum of three hours on the plane each flight, and the time difference of four hours when flying from Moscow requires our extra time to adjust. Often on flights, we have to land in another city that is quite far from our destination because of the weather, or heavy snow and wind. When that happens to us, we lose time to rest and have less time to prepare for the game! "
Tsima, as his teammates call him, has not yet tried the "whisper of the stars". It is a phenomenon in the Russian winter when you exhale, water vapor turns into tiny icicles that fall to the ground and produce a melodic sound similar to the gentle sound of a bell, which is why this phenomenon is called "whispering stars".
"The new Urengoy, where we play matches, is located in Siberia, where temperatures reach minus 50 degrees. The winter in Siberia is quite dry and there is a lot of frosts so most of the time when we are there we live in a hotel. We go for a short walk for a maximum of five minutes because it is unbearable. The frost is huge and it's hard to breathe outside because of it. Our day when we are there consists of playing a game to which we go by bus directly from the hotel and immediately after the game we return back to the hotel. We don't go out at all! "
It is the family that relaxes our captain, who is a native of Belarus and knows the Russian mentality well, and his favorite dish is pelmeni.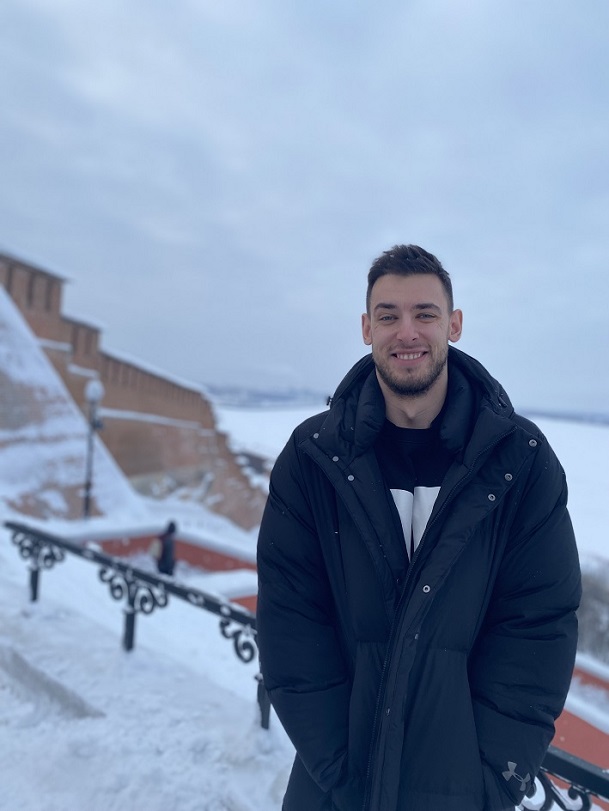 "It's something like Italian tortellini, but Russian pelmeni is a bit bigger and are stuffed with meat, cheese, or vegetables as desired. In addition to Russian gastronomy, I also fell in love with Russian music, and the most popular genre is Russian rap. I often listen to Morgenshtern & Timati. I speak Russian very well since I was born in Belarus, so there is no language barrier for me and it makes my stay easier. The Russians consider me a native here. "
Russian winter and mentality are news for 27-year-old Leo Andrić, who lives in Nizhny Novgorod, not far from Moscow.
"We had days with -25 degrees. You just have to dress pretty well, get a little cold, but you can't do otherwise. There is a lot of snow, it can fall for days on end, but on the one hand, it will be wonderful to see, of course from the window of the apartment! " – reveals Leo and adds: "I really liked the borsch. It is their soup with a little meat, vegetables and it is very tasty. I will try to learn how to prepare it by the end of the season for my friends and family in Croatia! "
Russia has as many as nine time zones. The most needed clothing items these days are hats, fur coats and warm jackets, which were also purchased by our national team members. Leo also spends most of his time on the plane, which does not make him too happy:
"Yes, we travel by plane in 90% of cases because most clubs are far from us. We only went to Moscow once by train, and we will go to Kazan by bus, which will be a real adventure. Travel is the biggest problem in terms of my overall experience in Russia so far. We are constantly changing time zones and it is very difficult to get used to, it is especially exhausting. We recently went on a "Siberian tour" to Novosibirsk and Kemerovo. We were there for a week at +4 hours difference and I honestly didn't get much sleep, and we had two games in that short time. The cold makes the situation even more difficult, but at least now I know what the term Russian winter means!"
Unlike Captain Tsima, Leo is still learning Russian.
"I have a little problem saying anything in pure Russian except those slightly worse words that of course, we all learn first. I combine a lot of Croatian and Russian because we have a lot of similar words so it's not hard to get along with teammates and people in general. Here are a few simple words I use every day – spasibo. Privet, khorosho, kak dela! "
The Croatian Volleyball Federation gladly received postcards from two members of the national team from cold Russia, who send warm greetings to all fans. The Croatian national team will gather again in the spring days when after the preparations they will play in the Golden League, the Final Four, which Croatia also hosts, and the Mediterranean Games and qualifications for the European Championship.